December 14th, 2021 - Christmas Lunch at East Sussex National Hotel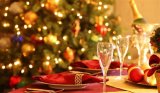 It's nearly Christmas again and arrangements have now been completed to advertise this last event of the year. As usual the venue is the East Sussex National Hotel & Spa, Little Horsted, Uckfield, East Sussex TN22 5ES. Telephone No. 01825 880088.
Arrival is from 11.30 a.m. onwards, when complimentary tea and coffee will be available. The Bar will also be open from 11.30 a.m. on a cash or card basis. Lunch will be served promptly at 1 p.m. and we will ask you to make your way to the National Suite from 12.30 p.m.
The Menu is detailed below for you to make your choices.
STARTERS
Spiced parsnip soup, crispy parsnips and chestnuts (VE)
Ham hock, pea and grain mustard terrine, spiced fruit chutney and sourdough toast
Salmon and crab with dressed leaves, beetroot gravadlax, crab cake, mango and lime salsa
Smoked tofu and pickled winter vegetables, beetroot puree and chicory with orange dressing (VE)
MAINS
Traditional roast turkey, apricot and chestnut stuffing, pig in blanket, buttered sprouts, roast potatoes, honey roast carrots and parsnips
Slow braised beef, horseradish mash, caramelised carrots and red wine jus
Pan roast fillet of Hake, gratin potato, braised fennel, fine beans and white wine sauce
Mushroom, brie, hazelnut and cranberry wellington, buttered sprouts, roast potatoes, honey roasted carrots and parsnips (V)
DESSERTS
Classic Christmas pudding, brandy custard (gluten, nut free and vegan available)
Belgian chocolate and orange tart, orange anglaise and vanilla ice cream (VE)
Glazed lemon tart, raspberry sauce
Selection of cheese, chutney, grapes and biscuits
Tea, coffee and mince pies (gluten free and vegan available)
-o0o-
The Committee is delighted to tell you that the Christmas Lunch this year will be a FREE event to all Joint Members. Sole Members and their 1st Guest will also both be FREE. For all other Guests the cost will be £39 per head. Please contact me if this isn't clear.
Please arrange your own table as in past years, with a maximum of 10 friends, but of course I will arrange seating for those who are unable to make up a complete table. I should also like to say this is a great help. Many thanks.
Please submit your reply slips and, if relevant, cheques to me by
Monday 15th November
at the very latest and if you require an acknowledgement, please enclose a SAE or email address.
NB FINAL NUMBERS will be provided to the Hotel on the 29th November, after which we will be unable to issue any refunds.
Cheques will be presented around November payday.
Our Chairman, Stephen Barnett together with all the Committee look forward to seeing you again and of course all new members.