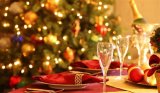 December 10th, 2019 - Christmas Lunch
It is time again to invite you all to apply for the Christmas Lunch, which will be held again at the East Sussex National Hotel & Spa, Little Horsted, Uckfield, East Sussex TN22 5ES. Telephone No. 01825 880088.
The arrival time is from 11 a.m. onwards, when complimentary tea and coffee will be available in the Hotel Foyer. The National Function Bar will also be open from 11 a.m. until 1 p.m. on a Cash basis.
Lunch will be served promptly at 1 p.m. and we would ask you to take your seats from 12.30. Can I please ask you again to organise your table of 10 friends, which will be of great help to me, returning your reply slips and cheques together. As in previous years I will allocate seating for those of you who are unable to make up a complete table.
Starters
Parsnip Soup with herb croutons
Chicken Liver Pate, sourdough toast and red onion jam
Smoked Mackerel, multigrain toast and horseradish cream
Mains
Roast Turkey, apricot and sage stuffing, pig in blanket, roast potatoes, sprouts, roast carrots and parsnips and thyme gravy
Fillet of Cod, crushed new potatoes, buttered cabbage and lemon butter sauce
Nut Roast in Pastry, roast parsnips and carrots, roast potatoes, sprouts and a thyme sauce
Desserts
Christmas Pudding with brandy custard
Orange and Cranberry Cheesecake with orange sauce
Coastal Cheddar and Stilton with chutney and biscuits
Coffee or Tea and Mince Pies to follow
The cost for Members is £22 with Guests at £38. It has been agreed by the Committee that, for the Christmas Lunch ONLY, the first guest of a sole member will be afforded the Member rate of £22. Hopefully this will encourage more members to attend.
Please confirm your attendance by
11/11/19
. If you require an acknowledgement, please include an email address on the reply slip or enclose a SAE.
Cheques will be presented on or around November payday.
N.B. Final numbers will be confirmed by 25/11/19 after which, we are unable to provide any refunds.
Our Chairman, Stephen Barnett, together with all the Committee, look forward to seeing you all again and we hope new members will be encouraged to come along.