Ref:
Date:
Location:
Photographer:
[clikcontent type=paymentBuyLink replaceable=true]
Ref:
Date:
Location:
Photographer:
[clikcontent type=paymentBuyLink replaceable=true]
December 11th, 2018 - Christmas Lunch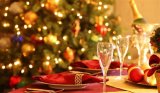 The Christmas Lunch this year will be held at the East Sussex National Hotel & Spa, Little Horsted, Uckfield, East Sussex TN22 5ES. Telephone No. 01825 880088.
Arrival time will be from 11.30 a.m. with complimentary tea or coffee available in the National Suite Function Bar. Lunch will be served in the National Suite promptly at 1 p.m. and again we will be asking you to take your seats from 12.30 p.m.
The Menu is set out below for you to make your choices and, as in previous years, I would ask for your assistance in arranging a table of up to 10 people (I will of course allocate seating for those of you who are unable to make up a complete table).
Starters
1. Ham Hock Pressing, Piccalilli Puree with Sourdough Croute
2. Smoked Mackerel Pate, Horseradish Crème Fraiche and Brown Toast
3. Cream of Parsnip Soup with Curried Oil
Mains
1. Roast Turkey, Apricot & Sage stuffing, Pigs in Blankets, Roast Potatoes, Root Vegetables, Sprouts and Red Wine Gravy
2. Roasted Fillet of Salmon, Herb Crushed New Potatoes, Tender Stem Broccoli, Tomato & Fennel Sauce
3. Root Vegetables, Spinach & Applewood Smoked Cheddar Wellington and Tender Stem Broccoli
Desserts
1. Traditional Christmas Pudding, Granola and Brandy Sauce
2. Winter Berries Cheesecake with Raspberry Sorbet
3. Chocolate Mousse, Honeycomb and Passionfruit Gel
4. Cheese and Biscuits
Coffee or Tea and Mince Pies.
Cost this year is £22 for Members and £35 for Guests. Please return your reply slips with your cheque to Christine Goose by 12/11/18. If you require an acknowledgement, please include an email address on the reply slip or enclose a SAE.
Cheques will be presented on or after November payday.
N.B. Final numbers will be provided to the Hotel by 26/11/18 after which, we are unable to provide any refunds.
Our Chairman, Stephen Barnett, together with the Committee look forward to seeing you all again this year.