A.G.M. & Lunch - September, 2021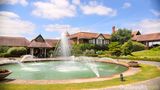 The AGM took place at the East Sussex National Golf Club 16th September with 80 members in attendance on a lovely sunny Autumn day.
The AGM was held later than normal this year because of the restrictions that were in place around April. It was wonderful to be able to meet together and enjoy the company of our friends once again. We worked our way through the formal AGM meeting Agenda at the customary speed.
Minutes and the Chairman's Report were approved; the Treasurer, Janet Russell, presented the 2020 Accounts and Sue Russell recalled the turbulent year that she and her Social Team faced last year.
The election of the Chairman and Management Committee for 2021/22 saw an across-the-board re-election of the previous year's team. On behalf of us all, I would thank our Members for their continued support and trust you place in us to run your Club. A list of the Committee members can be seen on the
Committee
page.
With "the business" part of the event over, we all enjoyed a very good lunch served by the friendly staff and supplemented by lovely views across the golf course.
- Stephen Barnett