Christmas Lunch - December, 2021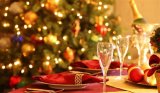 Hooray! At long last 196 of us had a wonderful afternoon at the East Sussex National enjoying delicious food, entertainment by the musicians and, to end the day, a raffle.
The Hotel pulled out all the stops to make it an unforgettable event.
By all the lovely comments received, it was a great success and we therefore look forward to seeing you all again in December 2022 for another Christmas Lunch. -
Christine Goose
"A quick email to thank you for yesterday, so well organised, good food and excellent company. Good to see some old friends and have the chance to catch up, if only briefly! (Baby sitting duties for grand daughters kicked in straight after!!!). Hopefully be able to attend some future events, thanks again." - Chris & Averil Hudson
"I just wanted to thank you personally as well as Christine, Sue and the whole committee, for organising such a splendid lunch for us all yesterday. Please do pass on my grateful message of thanks, to everyone who made the occasion such a success. It just goes to show that there IS such a thing as a free lunch…and it was very much enjoyed; all the more, as due to Covid, we had to cancel our luncheon last year." - Timothy Jackson
"It was a lovely day and so well organised as always; you both always put such a lot of effort into making everything go so well and it is much appreciated by us all."- David & Lynda Warburton
"Wonderful do. Best menu ever" - Marion Oakley.
"Delicious lunch. Great fun at the table." - Pam Lineham.
"Splendid lunch and such a pretty room." - Margaret Smith.
"I am writing to thank you and your team for an excellent lunch last Tuesday. As usual the the venue, meal, and service were first class and Christine, Sue and all their helpers did a great job organising the ever changing numbers and making sure we all had placed in front of us what we had ordered. The virus didn't cause any major problem for those of us who made the decision to attend and hopefully nobody came away with an "unwelcome" guest. Please pass on our thanks to all involved."- Bryan & Sue Barnes