Thursford "Christmas Spectacular" - November, 2021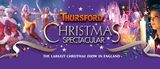 This trip definitely put us all in a festive mood.
There were 30 of us in all and the first day was spent travelling to Swaffham in Norfolk, where we enjoyed a plentiful pub lunch before continuing our journey to Langham Glass.
The glass making demonstrations were very informative and they had some beautiful products on display in their showroom.
The main highlight of our trip was of course, the Thursford Spectacular Show – a wonderful setting, Christmas on a grand scale and really excellent performances from superbly talented singers, dancers and musicians.
Santa's Magical Journey together with the light trail were splendid!
After two nights in our hotel, we ventured out to Newmarket Racecourse on our final day to explore Presents Galore, the Festive Fair before making our way home.
- Sue Russell
"Thanks for organising a great weekend – I know how much work you put in to these events and it is much appreciated."- David & Lynda Warburton