Champagne Lunch Cruise - August, 2021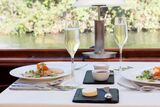 We're back!
Our first coach trip for a day out since February 2020 and how wonderful it was to see everyone again.
No delays to our journey, fabulous weather and a marvelous boat trip on the Thames. Our circular journey around the Windsor area started with a glass of Champagne on board, while we caught up with friends for some long awaited chit chat.
We then moved "lower deck" where we were served an excellent three-course lunch by the hard working team on board "The Georgian".
The Skipper did his best to provide some commentary on our return journey but we were all talking so much, he gave up!
- Sue Russell
"Hi Sue we just wanted to thank you for a lovely day cruising the Thames. We thoroughly enjoyed it and have met so many new friendly people." - Pamela and Michael Scotting
"We think you can relax in knowing that we all had a fantastic day. To be the first event after a gruelling eighteen months was a sheer joy. So nice to meet up with everyone again & to know we have all come through this dreadful pandemic. Good food, good company, good weather. Thank you Sue for yet another successful outing." - Doreen & John Tessier
"Didn't we do well? It was great to see so many familiar faces again - and what a day out: good journeys, fab vessel and crew, really lovely food and all the sun we could have hoped for!" - Val Bristow & Terry Ashdown
"I'd just like to say thank you for a very special day - first Bank outing for so long, and such a success in every way - I think everyone was impressed with the food." - Vivien Hill
"Thank you so much for such an uplifting day on Tuesday. It was perfect - weather just great and the trip on the Thames and the superb meal just made it all such a happy occasion. Seeing everyone after being restricted for so many months was a confidence booster -back to some normality. We do appreciate all the hard work you put in for our enjoyment." - Joyce & Michael Eldridge