Christmas Lunch - December 2019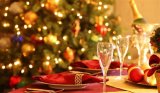 The day started frosty and then wet and windy, but at 1pm, inside the National Suite at the East Sussex National Hotel, members and their guests sat down and enjoyed a delicious Christmas Lunch. Catching up with friends and reminiscing about the good times.
Your comments show that the hotel excelled themselves with good food, festive decorations and service, not forgetting our pianist who played a wonderful selection of tunes during the lunch. The Committee thank you for your feedback.
We hope to see you all again in 2020 especially the Christmas Lunch.
- Christine Goose
Just a note to say how much we enjoyed the lunch on Tuesday and to thank you and Christine and others who made it all possible. We realise that it takes a lot of work to arrange such a lunch and please also pass on our appreciation to Christine and the other members of the committee. The meal was good in an ideal venue - hopefully it will all be repeated next year. Barry & Joan Turnwell
Just a short note to congratulate you on a splendid occasion at the East Sussex National yesterday. The Lunch was superb and of course the company was great.There was a wonderful buzz amongst the guests and thank you for placing us on a very entertaining table. The lady I sat next to was most charming but I know that from many previous experiences!! I feel I must also mention the entertainment. The pianist, with his wonderful selection of music gave us the icing on top of the cake. Now you can have a short rest and dream about preparations for your own Christmas! - Valerie & Trevor Clapp
Another lovely lunch. The National has really upped it's game with decorating the room, very festive.Thank you for all your hard work. - Doreen & John Tessier