Christmas Lunch - December, 2018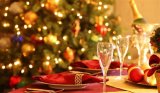 The Christmas Lunch was held on the 11th December 2018 at the East Sussex National Hotel and Spa at Little Horsted.
190 members and guests attended and were treated to a delicious meal, served by very attentive staff in a beautifully decorated room, listening to the musicians playing for us during the meal. What more could we have asked for on a lovely sunny Tuesday afternoon and by your comments, the day was thoroughly enjoyed by everyone.
The Committee wish to thank you for your lovely feedback and we have passed your comments on to Clea and her team. We look forward to seeing you all at the 2019 Christmas Lunch."
- Christine Goose
" Have to commend you again for a most enjoyable lunch. Have to say the venue has upped its game. Didn't the room look festive? We enjoyed the music too." - Doreen & John Tessier
" Just a note to thank you and your colleagues for an excellent Christmas lunch. It is a really lovely occasion and one that we greatly enjoy. The venue, food and company are ideal and we know that it takes a great deal of time and effort to arrange such a large funtion. Many thanks to you all." - Joan & Barry Turnwell.
"On behalf of my four lady guests they have asked me to thank you for a lovely day." - Lawrie Robinson
"Many thanks for all your efforts on our behalf." - Jeanette & Lyn Stammwitz
"We had a lovely time – thanks to you & Christine." - David & Lynda Warburton
"Many thanks to you and Christine." - Marion & Frank Barber
"Thank you so much for all your hard labours in making our Christmas Lunch such a success. I cannot imagine that anyone had matters to complain about apart from the bar not opening until twelve noon. I enjoyed the music. They played quite a few Gershwin numbers which I am particularly fond of." - Nigel Field & Kiyo Hasegawa.
"Just a note to thank you for all the hard work you and others obviously put into arranging and running the lunch. As ever, it was a most enjoyable occasion; the food was good, everything seemed to be well organised, from the greetings, through the table plans and the music, to the raffle. Our vote, for what it's worth, would go to the East Sussex National for future occasions, as long as they have enough bar staff!" - Peter & Brenda Brown
"Thank you for helping with the lunch yesterday we would like to thank everyone who helped to make it a super day, the lunch was excellent. The room looked very nice we all enjoyed our lunch, it was a very nice day. Thanks to all who made it a great day, it was nice seeing all our friends again." - Valerie & Archie Redwood
"Thank you for a lovely day yesterday – we really enjoyed it." - Mary Paterson
"Just a quick email to thank you and the committee for organising a very enjoyable lunch on Tuesday. Particular thanks to Christine Goose and Sue Russell. We met some new people on our table and as usual it's good to catch up with old!!! friends and colleagues. The food and service were very good, Barry's grace was as meaningful as ever and the musicians played at just the right volume." - Bryan and Sue Barnes