Christmas Lunch - December, 2017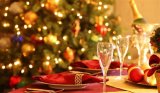 This event was again held at Crowne Plaza Felbridge on Tuesday 12th December.
210 people applied, although the final number was reduced slightly on the day.
The room was beautifully decorated and it was lovely to see so many of you together re-acquainting with old friends and making new ones. Several purchases were made at the Festive Market - thank you for supporting these local traders, who also enjoyed meeting you. I would like to thank you also for all your feedback, which we will share with the Hotel.
- Christine Goose
"You do Christmas so well. The meal was really good and the venue beautifully & tastefully decorated. It was a novel idea to have the stalls, so hope it paid off. You asked John to put in writing the idea of the Christmas cards, as operated by London Southern at their Christmas lunch. Lay out an alphabetical table whereby everyone can place their cards under the appropriate letter. This avoids people walking around trying to find name cards."
- John & Doreen Tessier
"A fabulous time. Well done to Christine and all the organisers and their partners."
- Kay Barfoot
"A really good day and Christmas lunch, the "Crown Plaza" did us proud and good to catch up with everyone, with very best wishes for a happy and peaceful Christmas and New Year."
- David and Rae Titcomb.